Technical
CAEによる設計と解析
Design & Analysis by CAE
当社は、3Dデータを積極的に活用し、スピーディな対応を目指しております。シミュレーション機能により、製品のパフォーマンスを向上させ、目標を上回る品質の製品を生み出すことができます。 After hearing your needs and ideas, we can use 3D CAD to suggest specific images.
設計・解析技術・光学シミュレーション
Design & Analysis Technology and Optical Simulation
お客様からの3次元データをもとに、技術者のスキルを生かしたデザイン提案、各種解析、設計試作などを行い、最適な金型を開発。
納期の大幅短縮も同時に推進していきます。 Based on 3D data from customers, design proposal, various analysis, design prototyping, etc. are performed to develop the optimum mold.At the same time, we will promote significant reductions in delivery times.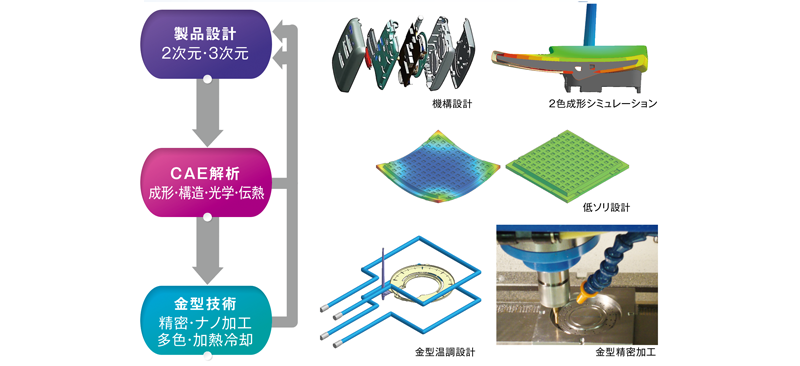 長年培ってきた成形技術、材料技術に加え、高度な解析・設計・金型技術を駆使して、デザイン提案(3Dモデル作製)から製品化まで、迅速にサポートします。 Based on molding technology and material technology, we support from design proposal (3D model creation) to commercialization quickly.

光線追跡シミュレーションにより、照度、輝度、光度など、製品に要求される光学仕様の最適化およびご提案をいたします。 By ray tracing simulation, we propose optimal optical specifications required for products, such as illuminance, brightness, and luminous intensity.

CAEツール紹介
CAE Tools
当社は、3Dデータを積極的に活用し、スピーディな対応を目指しております。
シミュレーション機能により、製品のパフォーマンスを向上させ、目標を上回る品質の製品を生み出すことができます。 We actively use 3D data to aim for speedy response. Simulation analysis can improve product performance and produce products that exceed the target performance.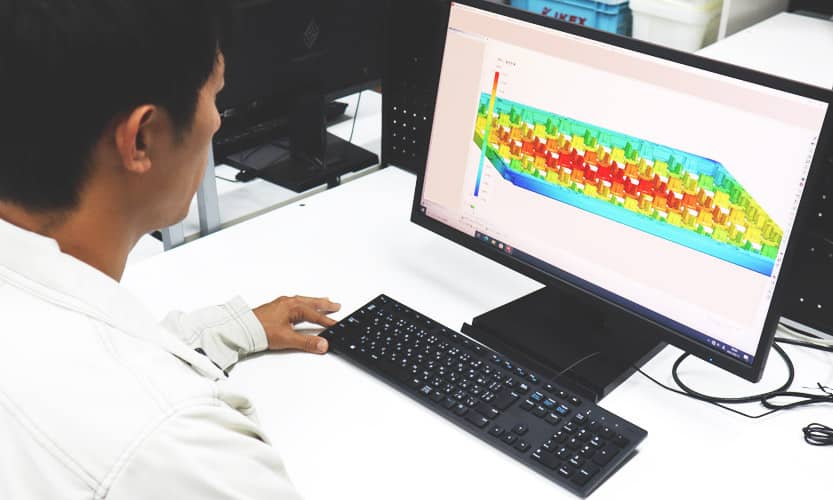 3D CAD
3D CAD software
お客様とのデータのトランスファーを効率的に行うために、複数のCADを保有しております。

・Creo Parametric

・SolidWorks

・Pro/ENGINEER

・Autodesk Inventor

・CATIA/IDEAS We have multiple CAD software to efficiently transfer data with our customers.

·Creo Parametric

·SolidWorks

·Pro/ENGINEER

·Autodesk Inventor

·CATIA/IDEAS
構造解析ソフト
Structural analysis software
3Dデータをベースに、有限要素解析モデルを作成し、その解析結果から、問題点の把握や製品機能の向上に役立てることが出来ます。

・Creo Simulate

・SolidWorks

・Femap(with NX NASTRAN) Perform finite element analysis using 3D data.The analysis results can be used to identify problems and improve product functions.

·Creo Simulate

·SolidWorks

·Femap(with NX NASTRAN)
成形解析ソフト
Molding analysis software
Moldflow は3次元ソリッドモデルを直接解析することができる、樹脂流動解析ソフトウェアです。
金型冷却、反り、繊維配向といった充填+不具合現象を検討する機能が網羅しており、品質の向上を目指すことが出来ます。

・Moldex 3D

・Moldflow(Insight/Adviser) Moldflow is a resin flow analysis software that can directly analyze 3D solid models. There is a function to consider deformation and failure phenomena of molded products.
By utilizing this software, we can aim to improve the quality of molded products.

·Moldex 3D

·Moldflow(Insight/Adviser)
光学解析ソフト
Optical analysis software
光学解析ソフトにより、
・光線追跡による迷光、散乱、回折、反射、屈折などの物理現象をシミュレーション
・光の通過する面上で、照度分布や輝度分布解析を得ることが可能です。

・Trace-Pro

・Optisworks

・バックライト解析用(R600) By using optical analysis software
·Simulate physical phenomena such as light scattering, diffraction, reflection, and refraction by ray tracing
·Analysis of illuminance distribution and luminance distribution on the surface through which light passes

·Trace-Pro

·Optisworks

·Backlight analysis software(R600)