Products
自動車分野
Automobile
成形技術、機能付与技術、加飾技術、後加工技術を融合し機能部品から
意匠部品、光学部品まで様々なご提案が可能でございます。 We offer a wide variety of proposals from mechanical parts, interior parts and optical parts by integrating our excellent technologies of molding, function-adding, decorating and processing.
加飾技術を駆使し、低反射(AR、AG)や防指紋性(AFP)を付与したオーバーレイパネル(カバーレンズ)、メーターパネル用部品など高品位な意匠部品をご提供します。特に、ご要望が多い、透明成形品や高光沢ブラック(ピアノブラック調)の実績は多く、高品質な生産を背景に高い生産性を誇ります。 We provide high-quality interior parts, such as overlay panels with AR/AG and AFP properties and components for meter panels. Based on a strong track record of transparent molded parts and high-gloss black painting (piano-black surface), which are in especially high demand, we are proud of high productivity with excellent quality.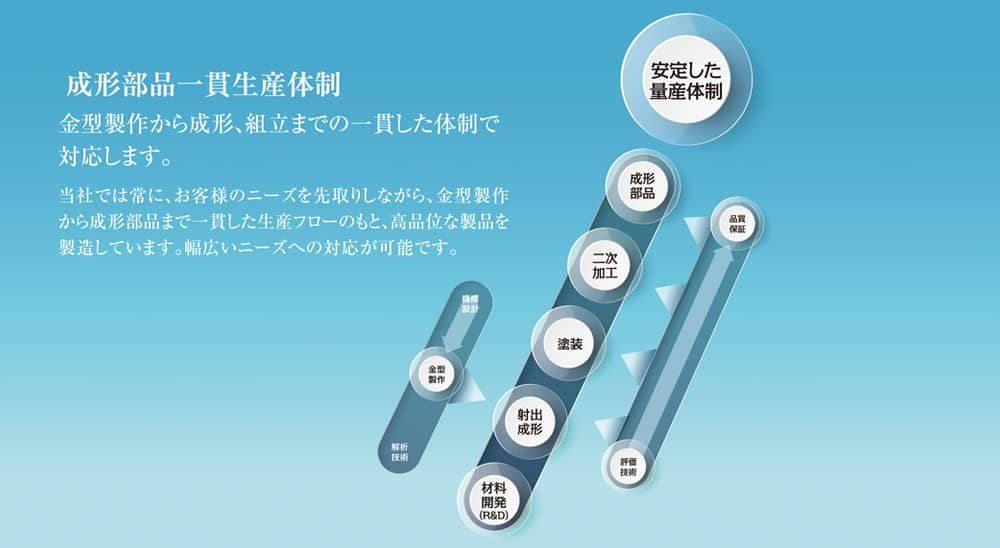 オーバーレイパネル(カバーレンズ)
Cover Panel
近年、自動車の安全基準の強化や自動運転技術の向上により、新たな部品や機器が搭載されてきており、更なる自動車重量の増加が予想されます。
一方で環境規制強化に伴い自動車の燃費の向上の潮流が加速している側面もあり、各部品の軽量化は常に求められています。
当社が製造する樹脂製オーバーレイパネルは、車載用タッチパネルの表面に採用され、従来主流であったガラスと比較して、軽量化を実現することはもちろんのこと、低価格化、三次元形状など、様々な市場のニーズに応えることが可能になりました。
当社では蓄積した技術力を基にお客様が求める機能に合わせたオーバーレイパネルの工法をご提案します。 In recent years, new parts and devices have been installed due to stricter automobile safety standards and improvements in automated driving technology, and further increases in automobile weight are expected.
On the other hand, the trend to improve automobile fuel efficiency is accelerating in line with stricter environmental regulations, and there is a constant need to reduce the weight of each component.
The resin overlay panels manufactured by our company have been adopted for the surface of Automobile touch panels. Compared to glass, which has been the mainstream material in the past, these panels are not only lighter in weight, but also lower in price and have a three-dimensional shape, making it possible to meet the needs of various markets.
We will use our accumulated technological expertise to propose an overlay panel construction method that meets the functions required by our customers.
ヒートアンドクール + 圧縮成形
Heat & cool + compression molding
オーバーレイパネルの製造は、主に、成形・アニール・印刷・切削・塗装の工程があり、その全てを社内で一貫して行っています。その中でも成形工程では、ヒートアンドクールや圧縮成形を駆使することで、ウエルドレス、低リタデーションを実現し、当社オーバーレイパネルの意匠性及び機能性の基礎を生み出しています。この工程を基盤とした、付加価値を生み出すいくつかの工法を以下にご紹介します。 The manufacturing of overlay panels mainly involves molding, annealing, printing, cutting, and painting processes, all of which are carried out in an integrated manner in-house. In the molding process, we use heat and cool and compression molding to achieve weldlessness and low retardation, which is the basis for the design and functionality of our Cover Paneles. The following is an introduction to some of the methods that create added value based on this process.
ハードコートモデル
Hard coat model
ハードコートモデルは、印刷を施した透明成形品に対し、UVクリア塗装をすることで、深みのある均一な外観を実現。更に対指紋性や防眩性などの機能も付与することができる。当社では、全ての製造行程を社内で全て完結させることで、高品質、高歩留の生産を行っています。 The hard coat model provides a deep and uniform appearance by applying UV clear coating to printed transparent molded products. In addition, functions such as anti-fingerprint and anti-glare properties can be added. We complete the entire manufacturing process in-house to ensure high quality and high yield.
フィルムインサートモデル
Film insert model
フィルムインサートモデルではお客様の多様なニーズに合わせたフィルムを独自に選定し、インサート成形を行います。フィルム賦型による三次元形状へも対応し、更には成形ノウハウとフィルム機能を掛け合わせることによるAG/ARの両立にも成功しました。
近年、意匠性、機能性の両立を中心に多彩な開発に努めており、より多様な技術提案が可能となっています。 In the film insert model, we select the film that best meets the various needs of the customer and perform insert molding. In addition, we have succeeded in achieving AG/AR by combining our molding know-how with film functions.
In recent years, we have been striving to develop a wide variety of products, focusing on the compatibility of design and functionality, and we are now able to offer more diverse technological proposals.
メーターパネル
Meter Panel
近年、デザイン及び光学特性を望まれるメーターパネル部品に対して、光学設計(光学シミュレーション)及びクリーンルーム内多色成形+後加工サービスを駆使し、お客様がご要望される高い品質の光学部品をご提供しています。

以下に、実施した事例をご紹介します。 In recent years, we have been providing customers with high quality optical components by utilizing optical design (optical simulation), multi-color molding in a clean room, and post-processing services for meter panel components for which design and optical characteristics are desired.

The following are some examples of the work we have done to date.
使用時

Using

部品

Parts

特長

Features

光透過目盛
・ABS樹脂(黒)、PMMA樹脂(透明)、印刷シートを一体化→インサート+二色成形で達成 Light transmissive scale
·ABS resin (black), PMMA resin (transparent), and printing sheet are integrated → achieved by insert + two-color molding
使用時

Using

部品

Parts

特長

Features

・メモリ部:PC樹脂(透明)+周辺部:ABS樹脂(黒)の二色成形

・メモリ部を透過グリーン/レッド色で印刷 Two-color molding of PC resin (transparent) for the memory part and ABS resin (black) for the peripheral part
*Transparent green/red color printing on the memory part
光透過目盛

Light transmission scale

光透過指針

Light Transmission Guidelines

PCとABSの二色成形を行い、ABSのみに選択的にメッキが付着するという特性を利用して、マスキングなどの工程を削減するとともに、アセンブリ品では達成できない目盛部に隙間のない高品位な製品をご提供しています。 By molding PC and ABS in two colors and utilizing the characteristic that plating selectively adheres only to ABS, we are able to reduce masking and other processes and provide high quality products with no gaps in the scale area, which cannot be achieved with assembled products.
光透過目盛

Light transmission scale

矢印部から光が透過

Light penetrates through the arrow part

二色成形とヒートアンドクール成形を組み合わせることにより、金型に彫り込まれたヘアラインなど10μm以下の浅い溝を成形品に確実に転写します。 また溝が埋まらないようハーフミラー蒸着することで金属調を表現し、点灯時のみPC形成部(矢印部)から光透過させることができる工法です。 By combining dichromatic molding and H&C molding, shallow grooves of 10 μm or less, such as hairlines carved into the mold, can be reliably transferred to the molded product. In addition, half-mirror deposition is used to prevent the grooves from being filled in, thereby expressing a metallic tone, and light can be transmitted from the PC formation part (arrow part) only when the light is on.
1次樹脂:透明PC 2次樹脂:赤PC

Primary resin: transparent PC Secondary resin: red PC

3次樹脂:黒ABS

Tertiary resin: Black ABS

三種類の樹脂を、射出成形のみで重ね合わせる方法。
アセンブリ工程を二色成形以上に削減し、かつ表面のみの加飾ではなく、製品肉厚内部まで加色することで光の漏れ、色抜けを防止します。 This is a method of layering three types of resin together using only injection molding.
It reduces the assembly process to more than two-color molding, and prevents light leakage and color loss by decorating not only the surface but also the inside of the product wall thickness.
文字:透明 目盛:赤 周囲:Crメッキ

Character: transparent Scale: red Surrounding: Cr plating

目盛部の拡大

Enlargement of the scale

三色成形の特長を併せ持ち、ヒートアンドクール成形とメッキを組み合わせることで、メッキ工程にて発生する様々な素材起因の不良を大幅に削減することが可能です。 By combining the features of three-color molding and H&C molding with plating, it is possible to drastically reduce the number of defects caused by various materials in the plating process.
非球面ミラー
Aspherical Mirror
成形品(材質:PC、COP、COC等)にダイレクトにスパッタリング加工を施すことで、高い表面精度と形状精度を確保し、更には高い反射率と車載環境に耐えうる信頼性を満足したヘッドアップディスプレイ用の非球面ミラーです。(図1)
成形からスパッタリングまで全自動での生産システムを確立(図2)し、従来不可能とされてきたPC材へのダイレクトアルミ膜の信頼性を確保できたことにより、工程削減と同時に材料費の削減を可能としました。 Figure 1. Aspherical mirror for Head-Up-Display.
Direct sputtering on a molded part (made of PC, COP, COC etc.) realizes high precision of part surface and shape, good reflectance and reliability on in-vehicle environment.
We established fully automated production system from molding to sputtering (see Figure 2).
That enables to secure reliability of directly-formed aluminum layer on a substrate made of PC, which means that process reduction and raw material cost reduction is possible.
図1:特許取得済
PAT.6738200(us) , PAT.2L01820920.3(CN) Figure1:Patented
PAT.6738200(us) , PAT.2L01820920.3(CN)

図2:自動生産システム

Figure2:In-line Sputtering is possible in conjunction with a molding machine.
多様な要素技術
Diverse elemental technologies
本開発には多種多様な要素技術を必要とします。
・精密金型設計技術(非球面式補正, 冷却配管)
・精密成形技術(精密温調)
・精密形状評価技術(三次元形状測定, 設計形状と成形品形状差定量化)
・真空成膜技術(成膜条件適正化, 薄膜分析)
・光学特性評価技術(湾曲成形品反射率評価)
などがあげられます。車載部品ならではの過酷な各種環境試験下(高温,高温高湿,低温,熱衝撃,高湿サイクル等)の耐久性向上、ポリカーボネートはじめ物理・化学性能を考慮した基材樹脂(含:グレード)の選定も鍵となります。
本開発により構築・蓄積されたとりわけ難易度の高い要素技術は、他分野の製品への応用にも活用しております。 A wide variety of elemental technologies are required for this development.
·Precision mold design technology (aspheric correction, cooling piping)
Precision molding technology (precision temperature control)
·Precision shape evaluation technology (three-dimensional shape measurement, quantification of the difference between designed shape and molded product shape)
·Vacuum film forming technology (optimization of film forming conditions, thin film analysis)
·Optical property evaluation technology (evaluation of reflectance of curved molded products)
etc. The key to improving durability under the harsh environmental tests (high temperature, high humidity, low temperature, thermal shock, high humidity cycle, etc.) that are unique to in-vehicle components is the selection of base material resins (including grades) that consider physical and chemical performance, including polycarbonate.
The particularly difficult elemental technologies developed and accumulated through this development are also being applied to products in other fields.
微細プリズム加工機
ナノレベルの金型加工が可能 Micro prism processing machine
Capable of processing nano-level molds

高分解能三次元測定機
0.001μmの測定が可能 High resolution 3D measuring machine
Capable of measuring 0.001μm
特性評価例
Characteristic evaluation example
図3は、三次元形状測定した非球面ミラー射出成形品の形状が、目標とする設計非球面形状からどの程度の差が存在するか定量的に評価した例です。PV(Peek to Valley)値が小さくゼロに近いほど目標形状に一致していることを意味します。
(PV値:反射面をXY面、Z軸方向の目標形状からの差をdZとした場合、PV=dZmax-dZminと定義)
図4は、射出成形品の光学面に対し前処理・下処理することなく真空薄膜成膜装置に投入し、アルミニウム合金膜、保護膜及び増反射膜を成膜した成形品の光学反射率波長依存性を評価したものです。 Figure 3 shows an example of quantitative evaluation of the difference between the measured 3D shape of an aspheric mirror injection molded product and the target design aspheric shape.
(PV value: defined as PV=dZmax-dZmin, where the reflective surface is the XY plane and dZ is the difference from the target shape in the Z-axis direction)
(PV value: defined as PV=dZmax-dZ min, where the reflective surface is the XY plane and dZ is the difference from the target shape in the Z-axis direction)
Figure 4. shows correlation of reflectance (%) and wavelength(nm) of aluminum + protective layer and aluminum + high reflection layer on a molded part.The part was loaded in a vacuum deposition chamber without any pretreatment on its optical surface.

今後の展開
Future Developments
現在、本開発により培った真空成膜技術を軸に、車載LED光源用反射型小型光学部品を開発し、先行して量産を開始しました。
今後、光学薄膜構成を根本から見直し、反射率向上化を進める予定です。
既存技術に加え、新たに構築・蓄積した技術を重ね合わせ、バランスのとれた製品を提供できるように、開発の加速・製品化の実現を目指していきます。当社の設備や技術がお役に立てる具体的なテーマがありましたら、是非、ご連絡ください。 Currently, we have developed reflective small optical components for Automobile LED light sources based on the vacuum deposition technology cultivated through this development, and have started mass production ahead of schedule.
In the future, we plan to fundamentally review the optical thin film composition to improve the reflectivity.
In addition to our existing technologies, we will continue to accelerate our development and commercialization to provide well-balanced products by combining our newly developed and accumulated technologies. If you have a specific theme that our equipment and technology can help you with, please contact us.
車載光学部品
Optical Parts
近年、車内雰囲気に高級感や居心地の良さを加えるために、光学特性の優れた部品が要望されている。 当社は、光学設計(光学シミュレーション)を駆使し、お客様がご要望される高い品質の光学部品をご提供しております。 以下に、今まで実施した事例をご紹介します。 Parts with excellent optical characteristics are in high demand to add a sense of luxury and comfort to the in-vehicle atmosphere. We provide good-quality optical parts using optical design / simulation technology. Some examples are shown below.
ヘッドライト(厚肉レンズ)

Thick-Walled Lens

各種照明(集光レンズ)

OpticalParts
ヒーターコントローラー(導光板)

Light Guide Panel

車載時計(導光板)

Light Guide Panel
車載機構部品
Mechanical Parts
汎用材料から強化材料(スーパーエンプラ)迄、様々な材料での生産対応が可能です。
製品開発では、CAE解析を基に、高精度、高品質な製品のご提供が可能です。 Our manufacturing line is capable of handling various raw materials not only commodity plastics but also super engineering plastics.
During development phase, we propose high-precision and high-quality product based on CAE analysis.
車載意匠部品
Interior Parts
近年、車内雰囲気に高級感や居心地の良さを加えるために、デザインの優れた部品が要望されている。当社は、クリーンルーム内多色成形 + 後加工サービスを駆使し、お客様がご要望される高い品質の意匠部品をご提供しております。
以下に、今まで実施した事例をご紹介します。 Interior parts with excellent design are in high demand to add a sense of luxury and comfort to the in-vehicle atmosphere.
We have cleanroom environment in where multicolor injection molding and fabrication process are available, that enables supply of high-quality interior parts to the customers.Some examples are shown below.
シフトカバー(ウエルドレス成形)

Weldless Injection Part

ヒーターコントローラー(二色成形)

Heating Controller Panel
スイッチベース(多色塗装)

Interior Part with Multicolor Painting

ボタンスイッチ(レーザー抜き加工)

Switch Button